Create a Culture of Privacy Within Your Organization Through Our Training and Speaking Engagements
We'll show you the tools you need and raise awareness about the privacy concerns you should know
Enterprivacy Consulting Group offers a full range of privacy-related training. For detailed information on our online and in-person courses, see our dedicated training website https://privacybydesign.training/.
<!=========Events minimal-list Template 1.6.3=========>
Interested in in-depth training on a particular subject? Check out our training website for a list of courses on a variety of privacy topics all designed to boost your privacy program! 
If you're thinking about sitting for the ANSI/ISO-accredited Certified Information Privacy Technologist (CIPT) exam offered by the International Association of Privacy Professionals (IAPP), then you'll want to read Strategic Privacy by Design, Second Edition. It's available in both print and digital format and considered an official textbook for this exam.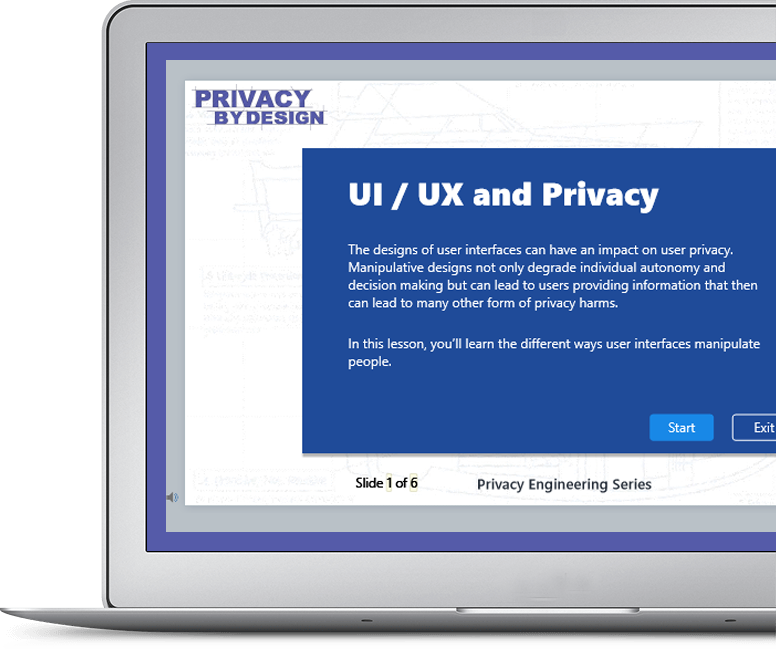 <!=========Events list Template 1.6.3=========>
Privacy should always be a guarantee… together we can make it so! Your contact information will only be used to discuss potential services with you.
<!=========Events list Template 1.6.3=========>
12:00 pm - 1:00 pm
"Privacy by design" has been part of the privacy practitioners' vernacular for well over a decade, but for many the phrase remains vague. In this talk, the author of the IAPP CIPT textbook, Strategic Privacy by Design, will walk through the development of a hypothetical smart thermostat following the recently released Design Process Standard from the Institute of Operational Privacy Design. For many participants this will open up a new avenue of thinking about privacy beyond the laws, principles and programmatic elements they are most familiar with and provide a level of concreteness to the concept beyond the broad to "build privacy in."
9:00 am - 5:00 pm
This one-day hybrid training will provide you with hands-on learning on how to build privacy into your products, services or business processes. It is an intensive hands-on training with enough time for reflection, discussions, and practical group exercises. Learn from R. Jason Cronk, one of the best known Privacy Engineers and author of IAPP's CIPT textbook Strategic Privacy by Design!
Upcoming Speaking Engagements
Jason Cronk is the author of the book Strategic Privacy by Design, Second Edition published by the IAPP. He is the principal consultant with Enterprivacy Consulting Group, a boutique privacy consulting firm, where his current focus is on helping companies overcome the challenges of privacy through privacy engineering and privacy by design. He is an IAPP Fellow of Information Privacy, a CIPP/US, CIPT, CIPM, a privacy by design ambassador, a licensed attorney in Florida, a blogger, a speaker, and a passionate advocate for understanding privacy. Cronk is also a member of the US Technical Advisory Group for ISO Project Committee 317, developing a standard for privacy by design in consumer products and services. His unique background includes a combination of entrepreneurial ventures, work in small and large businesses, strong information technology experience, and legal training.
Prior to Enterprivacy Consulting Group, Cronk worked in the Information Security department of Verizon as a technical consultant. He is a serial entrepreneur and has co-founded three companies across the diverse industries of online entertainment, construction, and music. He earned his JD, with honors, from Florida State University and his Bachelors in Mathematics as well as a Certificate of Information Systems Management from the University of Rochester.
While traveling around the world to work on privacy issues, he can be found most easily on Twitter at @privacymaverick.
In addition to training, we can deliver highly informative presentations or executive briefings on privacy-related topics. For more information or to request our principal consultant, R. Jason Cronk, to speak to your organization or at your event, complete our Speaking Engagement Request Form below.
Streaming, Webcasting, Remote Viewing, and Recording
No streaming, webcasting, or remote viewing is permitted, nor may the speaking engagement be audio or video recorded. Special arrangements may be made, but must be agreed upon in advance – please include a note in the form above if you would like to discuss this further.
Travel and Expenses
Due to the speaker's fluctuating schedule, and, in order to maintain maximum flexibility with regard to travel options, a flat fee for travel and related expenses is charged. Accommodations and incidentals are based on GSA per diem rates for the location.
Acceptance and Payment
Payment, in full, must be tendered at least 30 days prior to the speaking date to ensure availability.